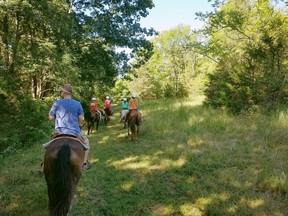 Guided Trail Rides
are available to guests and the general public at River's Bend Ranch!
Our rides on horseback will take you through scenic pastures and down along our piece of the Shenandoah River.
1-hour rides: $35/guest, $45/non-guest.
Rides available Thursdays-Sundays by 24-hour reservation only.
Riders must be at least 8 years of age and 56" tall; pony rides are available for younger riders!
Please arrive 20 minutes prior to your scheduled ride time.
Closed-toed shoes are required, and long pants are recommended.
For the safety of our horses, we cannot take riders over 240lbs; we apologize for any inconvenience.
Keep in mind - if you are allergic to dogs or cats, you are most likely also allergic to horses.
Have your own horse and just need a place to ride?
$15/hour outdoor arena, $20/hour lighted indoor arena
---